14th May going to celebrate for Mother's Day in 2017, Mother's day celebrates in honor of mothers and motherhood on second Sunday of May every year. In this post, you get best Funny Mother's Day Quotes for the celebrations. This is the occasion when you can express your feelings towards your mom. Make your mom happy by sending these quotes and wishes. This is a very simple and best way to celebrate mother's day with your mom. Mom is someone who does many sacrifices for the happiness of their kids. And a mom is the best friend of her son and daughter, and she is only who understand their kids heart. So it's time to express your feeling towards your mom, wish her a Happy Mother's day in your style by sending these funny wishes.
Funny Mother's Day Quotes
Funny Mother's Day Quotes
"If evolution really works,
how come Mothers only have two hands?"
-Milton Berle
"Mothers of teenagers know why animals eat their young."
~ Author Unknown
I hope you won't remember that my graduation means the end of my financial dependency. Happy Mother's Day!
Repaying for all the love you gave me, one day I'll pay your nursing home bills. – Funny Mother's Day Quotes
"It is never easy being a mother.
If it were easy, fathers would do it."
-Anon
"It would seem that something which means poverty, disorder and violence every single day should be avoided entirely, but the desire to beget children is a natural urge."
~ Phyllis Diller
Thanks for not bothering me if I marry a man or a woman as long as I give you grandchildren before you die. Happy Mother's Day!
Please accept my thanks for helping me solve the childhood problems you caused me.
"Insanity is hereditary; you get it from your children!" ~ Sam Levenson
"My mother had a great deal of trouble with me, but I think she enjoyed it."~ Mark Twain
From tomorrow let's get back to passively ignoring our mothers for the next 364 days.
It was a pleasure to learn from your mistakes with men.
"I'd like to be the ideal mother,
but I'm too busy raising my kids."
-Anon
"A mother who is really a mother is never free." User Manuals
~ Honore de Balzac
Happy Mother's Day to those women, who were intelligent enough to escape maternity.
I want to thank my Mom for never giving in to her urge to handcuff me to herself.
"Children are natural mimics who act like their parents
despite every effort to teach them good manners."
-Anon
Funny Mother's Day Quotes
"Working mothers are guinea pigs in a scientific experiment, to show that sleep is not necessary to human life." ~ Anon
A suburban mother's role is to deliver children obstetrically once, and by car for ever after"~ Peter De Vries
If mother wants to attract her children attention, she needs to sit comfortable on the sofa.
Mom, I am happy for you because your maternity clothes were much more convenient than Kim Kardashian's are.
"The one thing children wear out faster than shoes is parents." ~ John J. Plomp
Some are kissing mothers, and some are scolding mothers, but it is love just the same, and most mothers kiss and scold together. – Funny Mother's Day Quotes
I couldn't afford a present for my mother, so I made her some stretch marks.
Dear Mom, you're my second least embarrassing parent on Facebook. Happy Mother's Day!
"Setting a good example for your children
takes all the fun out of middle age."
-William Feather
A man loves his sweetheart the most, his wife the best, but his mother the longest.~ Irish Proverb
I remember I was a kid and the scariest words were "I'll tell your mom". – Funny Mother's Day Quotes
Knowing your surprising sexual promiscuity, I still can't congratulate you on Mother's day.
Funny Mother's Day Quotes From Daughter
A mom is the first friend of her daughter, even every daughter share their heart feeling with her mom first. They relationship between a daughter and mom is very strong. So it's an opertunity for every daughter if she wants to wish her mom and wants to give her thanks, then she can use these funny quotes and images for the celebration of Mother's Day.
Funny Mother's Day Quotes From Daughter
"When your mother asks, 'Do you want a piece of advice?' it is a mere formality. It doesn't matter if you answer yes or no. You're going to get it anyway." – Erma Bombeck
You know every story, every wound, every memory. Their whole life's happiness is wrapped up in you…every single second." ~ Isabel, Stepmom
"The moment a child is born, the mother is also born. She never existed before. The woman existed, but the mother, never. A mother is something absolutely new." ~ Bhagwan Shree Rajneesh
"My mother told me a million times not to exaggerate." ~ Anon
Mothers are fonder than fathers of their children because they are more certain they are their own.~ Aristotle
Folk Wisdom says that nothing is really lost until Mother can't find it.
I am really happy we become much closer since you started writing me instead of calling. – Funny Mother's Day Quotes
"I want my children to have all the things I couldn't afford. Then I want to move in with them." ~ Phyllis Diller
"God couldn't be everywhere so that is why he invented mothers."~ Daphne
"When you look into your mother's eye, you know that is the purest love you can find on this earth." ~ Mitch Albom
"I want my children to have all the things I couldn't afford. Then I want to move in with them." ~ Phyllis Diller
There are three ways to get something done: hire someone to do it, do it yourself, or forbid your kids to do it !
It happens that I open my mouth and my mother comes out. Happy Mother's Day!
My dad was really lucky to have you before the marriage fall apart. – Funny Mother's Day Quotes
"All women become like their mothers. That is their tragedy. No man does. That's his." ~ Oscar Wilde
"I need you, I need you here, I need you now. I cannot do this alone. I need my Mommy, and dammit, I don't care who knows it." ~ Rory
"Mothers and their children are in a category all their own. There's no bond so strong in the entire world." ~ Gail Tsukiyama
"The most remarkable thing about my mother is that for thirty years she served the family nothing but leftovers.
The original meal has never been found." ~ Calvin Trillin
"You don't really understand human nature unless you know why a child on a merry-go-round will wave at his parents every time around – and why his parents will always wave back."~William D. Tammeus.
Dear mom, congratulations on being one year closer to the age when you start complaining about not having grandchildren. – Funny Mother's Day Quotes
Funny Mother's Day Quotes From Son
Everyone know sons are naughty by nature and they do much naughtiness, which is very unlikely by his dad. That's the time when mom come and support her son. Even mom is the only approach for every son if they want something from dad. So son's now your get a day by nature when you can give thanks to your mom. Select some mother's day wishes for the celebration, wish your mom and make her happy.
Funny Mother's Day Quotes From Son
My mother had a great deal of trouble with me, but I think she enjoyed it. ~ Mark Twain
Happy Mother's Day to someone who carried me physically for 9 months and financially for 29 years. – Funny Mother's Day Quotes
"It takes a woman twenty years to make a man of her son, and another woman, twenty minutes to make a fool of him." – Helen Rowland
"Sometimes, when I want to take on the world, I try to remember that it's just as important to sit down and ask my son how he's feeling or talk to him about life." ~ Angelina Jolie
"Making the decision to have a child is momentous. It is to decide forever to have your heart walking around outside of your body." ~ Elizabeth Stone
In a child's eyes, a mother is a goddess. I am convinced that this is the greatest power in the universe." ~ N.K. Jemisin
"My mother's menu consisted of two choices: Take it or leave it." ~ Buddy Hackett
Only after some time you start understanding, that you are more dependent on mom now than when you were in utero.
Happy Mother's Day to the person who uses my voicemail like a podcast.
You'll be a great mom by the second child. Happy Mother's Day!
If a woman has to choose between catching a fly ball and saving an infant's life, she will choose to save the infant's life without even considering if there is a man on base. ~ Dave Barry
Happy Mother's Day, thanks for not putting me up for adoption! – Funny Mother's Day Quotes
"There is only one pretty child in the world, and every mother has it." – Chinese Proverb
"My instinct is to protect my children from pain. But adversity is often the thing that gives us character and backbone. It's always been a struggle for me to back off and let my children go through difficult experiences." ~ Nicole Kidman
"Being a mother is learning about strengths you didn't know you had, and dealing with fears you didn't know existed." ~ Linda Wooten
"A mother is a person who seeing there are only four pieces of pie for five people, promptly announces she never did care for pie."~ Tenneva Jordan
I want to thank you for not sleeping with some of my friends who thought you were hot.
I am happy son that you was not so famous enough to adopt a baby instead of having me. – Funny Mother's Day Quotes
Funny Mother's Day Quotes From Kids
"Mothers are fonder than fathers of their children because they are more certain they are their own". Kids are very special gifts for every mom which they get from god. And the same gift kids get from god by having a mom. So here we have some funny quotes for kids for wishing their mom on the occasion of Mother's Day.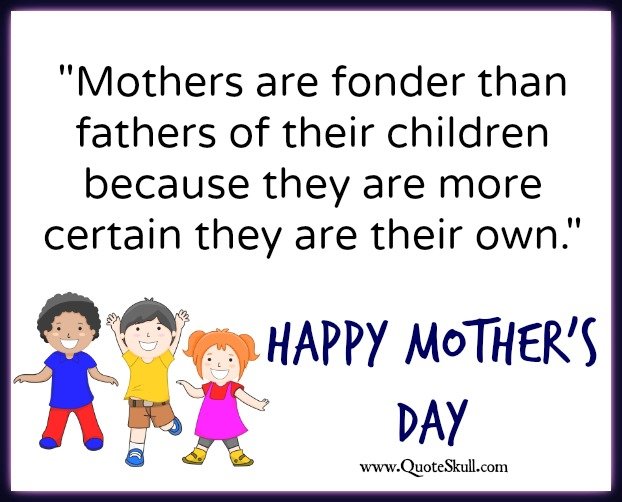 Funny Mother's Day Quotes From Kids
No matter how old a mother is, she watches her middle-aged children for signs of improvement. ~ Florida Scott
Happy Mother's Day. I love how we don't even need to say out loud that I'm your favorite child!' – Funny Mother's Day Quotes
"Before becoming a mother I had a hundred theories on how to bring up children. Now, I have seven children and only one theory: love them, especially when they least deserve to be loved." ~ Kate Samperi
There are over 6,000 human languages remaining in the world, and I can't talk to my mom in any of them. ~ Greg Tamblyn
"The most remarkable thing about my mother is that for thirty years she served the family nothing but leftovers. The original meal has never been found." ~ Calvin Trillin
"How lucky we are that we love each other so much that we burst into three pieces."~ Julia Roberts
"Mothers are all slightly insane." ~ J.D. Salinger
"There is only one pretty child in the world, and every mother has it." ~ Chinese Proverb
"Humans are the only animals that have children on purpose with the exception of guppies, who like to eat theirs."  ~ P.J. O'Rourke
"A mother is a person who seeing there are only four pieces of pie for five people, promptly announces she never did care for pie."~ Tenneva Jordan
Dear son, I hope you planned my Mother's Day celebration more carefully than I did getting pregnant with you.
I wish this Mother's Day lunch will help deny 364 days of my ungratefulness. –Funny Mother's Day Quotes
I doubt if a charging elephant, or a rhino, is as determined or as hard to check as a socially ambitious mother. ~ Will Rogers
All Mom's gave birth to a child, except my Mom… She gave birth to a legend.
"Any mother could perform the jobs of several air-traffic controllers with ease." – Lisa Alther
"My mom and I have always been really close. She's always been the friend that was always there. There were times when, in middle school and junior high, I didn't have a lot of friends. But my mom was always my friend. Always."~  Taylor Swift
"When your mother asks, 'Do you want a piece of advice?' it's a mere formality. It doesn't matter if you answer yes or no. You're going to get it anyway." ~ Erma Bombeck
"A mother takes twenty years to make a man of her boy, and another woman makes a fool of him in twenty minutes." ~ Robert Frost
"I married your mother because I wanted children, imagine my disappointment when you came along."
~ Groucho Marx
A man loves his sweetheart the most, his wife the best, but his mother the longest.~ Irish Proverb